Agnes L. Aagard Art Scholarship Endowment
An artist her entire life, Agnes L. Aagard loved painting. This passion began in her earliest years, painting with watercolors. Her love of art stayed with her through her final days when she left several acrylic paintings unfinished. Agnes' willingness to help...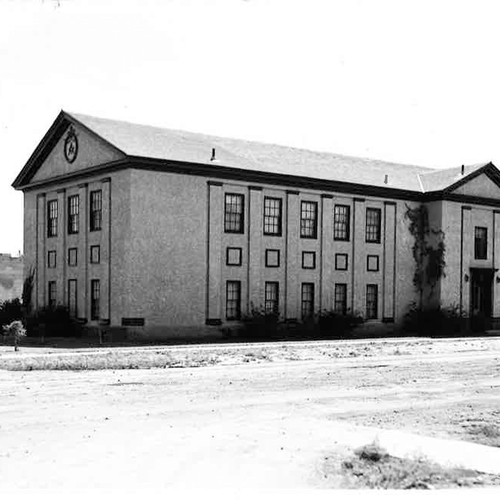 Alcyone Chapter # 27 Eastern Star Scholarship Endowment
Absorkee Lodge # 30 A.F & A.M. of Powell received a letter from Cedar Chapter # 14, Order of Eastern Star of Cody regarding forming an Eastern Star Chapter in Powell and offered their assistance. First Meeting of Alcyone Ch. # 27 was held on November 11, 1911, those...
Amy R. Jacob Communication Scholarship
Amy R. Jacob spent her teaching career passionate about teaching students how to communicate to broader audiences about news in their community and beyond. For nearly 20 years, Jacob taught high school students journalism and yearbook in the communities surrounding...
Amy R. Jacob (UMC) Music Scholarship
After Amy R. Jacob's husband, an agriculturalist with Great Western Sugar Company, passed away, she set up a scholarship to honor his memory and provide an education in agriculture to students who might not otherwise have access. Then she decided she would like to do...
Amy Wroe Bechtel Scholarship Endowment
Community—a word that is defined by the people and culture in Powell and at Northwest College. This was true for JoAnne Wroe, Amy Wroe Bechtel's mother in the days and years after her daughter's mysterious disappearance. The community came together and supported the...
Andrew R. Vergara Memorial Scholarship
Bob and Barb Vergara and family have had a partnership with Powell since moving to the community in 1973. The ties with community and the educational system are strong. All three of the Vergara children — Mike, Lori and Andy —are graduates of Powell High School, and...

Ann D. Stoddard Scholarship Endowment
The Ann Deitrich Stoddard Scholarship was funded in 2004 by her children (two of whom live in Park County) to honor Ann's love of children, her generosity, and her understanding of the value of education. Ann was born in Lansing Michigan, the only child of Dorothea...
Art and Leota Glasgow Memorial Music Scholarship
Art Glasgow came to Powell in 1908 as part of an early homestead family. Leota came to teach in the public school system in 1946, the same year Northwest College offered its first classes (back then it was called the University of Wyoming Northwest Center). After Art...

Baker Van den Berg Memorial Scholarship Endowment
Dr. William "Bill" H. Baker was a graduate of The Cornell University College of Veterinary Medicine. He practiced veterinary medicine for many years in northern Virginia before trading his stethoscope and surgical instruments for a sailing license. A renaissance...

Betty Rockhold Memorial/American Legion Auxiliary
As a native to Powell, Wyoming, Betty Rockhold had an immense amount of love for the town of Powell and the students at Northwest College. Betty was born and raised in the Powell, a VERY active community member, was a life long member of the American Legion...

Bob and Evelyn Croft Memorial Scholarship Endowment
Bob and Evelyn grew up during hard times, and neither of them could afford to attend college. They farmed and raised their five children (two boys and three girls) on the Croft homestead three miles east of campus. They always wanted college for their children and...

Bob and Rena Croft LDS Scholarship Endowment
Both Bob and Rena Croft graduated from NWC—Bob attended right out of high school, and Rena enrolled after the couple married and returned to Powell. Bob developed the Northwest Analytical Lab in partnership with NWC to test water and soil in support of the area...
Bruce and Darla Murray String Music Scholarship
When Bruce and Darla Murray homesteaded on the Willwood in the 1920s, opportunities to hear live orchestral music in Powell were few and far between. After the Northwest College music program was established, the Murrays' unflagging support for the Northwest Civic...
Bryson W. Herdt Memorial Scholarship
Bryson W. Herdt was a caring young man who liked to help others. Barry and Tawnya Herdt, Bryson's parents, wanted something good to come out of losing their beloved son at the age of 25. A scholarship to an NWC student seemed a fitting tribute as Bryson was a...
Bud and Mary Linton Athletic Scholarship
For many years, Bud Linton and former NWC men's basketball coach and athletic director, Ken Rochlitz, joined in an early morning walk while most of Powell was still sleeping. When they weren't walking together, they often were playing golf together. A constant in...
Bud and Mary Linton Nursing Scholarship
Nursing is a caring profession. Bud and Mary Linton know and appreciate the value of dedicated nursing care. "Over the years, Mary has spent some time in hospitals, having joint replacement surgeries," Bud said. "Nurses are so important to the patient's recovery in...
Bud and Mary Linton Rodeo Scholarship
When you grow up in the heart of ranching country in Meeteetse, Wyo., as Bud Linton did, you know rodeo as a way of life. And when you build your business in Park County, serving the farming and ranching community, you feel the pulse of the rodeo capital of northern...
Bud and Mary Linton Soccer Scholarship
Bud and Mary Linton have been to their share of soccer games through the years to watch their grandson, Tyler, play. He grew up with the game of soccer and participated in youth leagues. As a high school student in Billings, Mont., Tyler played four years of...
Cal S. and Irene D. Taggart Scholarship Fund
Cal and Irene Taggart's scholarship endowment is a tribute to their belief in supporting the future of the Big Horn Basin by providing opportunity for area young people to grow and succeed. Cal Taggart was born and raised in Cowley, Wyoming, and Irene grew up in...

Clay Miller Electrical Apprenticeship Scholarship Endowment
When Clay Miller passed away, his wife Dianne and family dedicated his memorial funds to creating the Clay Miller Electrical Apprentice Scholarship. Clay was a Master Electrician, and in 1977 he started Clay's Electrical Service (later Prime Power and...
Command Sergeant Major Kevin J. Griffin Scholarship Endowment
There are times in life when we see glimpses of ourselves in other people's stories. When Northwest College alum and Army Command Sergeant Major Kevin J. Griffin died during an attack in Afghanistan in 2012, Army veteran and NWC faculty member Steve Walker had such a...

Connie Kovach Memorial Nursing Scholarship Endowment
"Everything is going to be OK; Connie's taking care of me." Generations of Powell patients were soothed by Connie Kovach's calming nature and compassionate care. As Pastor Ron Lytle put it, "Connie was a healer." Educated as a nurse in the 1950s, Connie returned to...

Dick and Marge Wilder Scholarship Endowment
Dick and Marge Wilder enrolled as members of Northwest College's first class in 1946. Marge still vividly remembers the makeshift college put together in a few rooms in the basement of Powell High School. The Wilders attended NWC for one year, and then moved on to...
Dick Krajczar Education Scholarship
"Education is the one thing that no one can take away from you." These are the searing words of a Palestinian man in Amman, Jordan, who sacrificed to pay for a college education for his eight children after he had lost nearly everything, including his land on the...
Dick Smith Memorial Scholarship
The Smith family started the Dick Smith Memorial Scholarship in 1988 after Dick's early passing. Dick was not a college educated man, but a man who learned by doing. However, he always believed "diplomas open doors that otherwise may remain closed." Jeanette,...

Dock Fulton Memorial Athletic Scholarship
Dock Fulton never wrestled a match in his 80 years of life, but his legacy is a family of wrestlers, wrestling officials, and wrestling coaches. He believed in the value of education, and the importance of participation in activities; his scholarship encourages...

Dolores Snyder Nursing Scholarship Endowment
The Dolores Snyder Nursing Scholarship was started in 2004 after Dolores lost her life to colon cancer. In gratitude for the loving care that Dolores received from the Cody medical community during her illness, Dolores' husband Bob approached one of her doctors...
Donald J. Livingston Commemorative Engineering Scholarship
Don "Livy" Livingston founded "Engineering Associates" in Cody in the 1950s and guided its growth and development over the decades. His hard work and sacrifice made it what it is today. He has always been a tireless advocate for the engineering and surveying...

Earl G. Gould and Faie V. Gould Scholarship Endowment
The Gould family home is across the street from Northwest College, and according to Earl and Faie's daughter, Grace, the family watched the college grow from a University of Wyoming experiment farm to the Northwest College campus it is today. The success of the...
Esther Brodrick Brumage
Esther Cowgill Brodrick Brumage was born with a song in her heart and she played it for all 93 years of her life, often as a Sunday accompanist in church and at official high school functions.  She got others to sing along as the founding director of a 94-member...